---
Dahabshill International Bank go for cloud based Core bank with FBS' Mizan Solution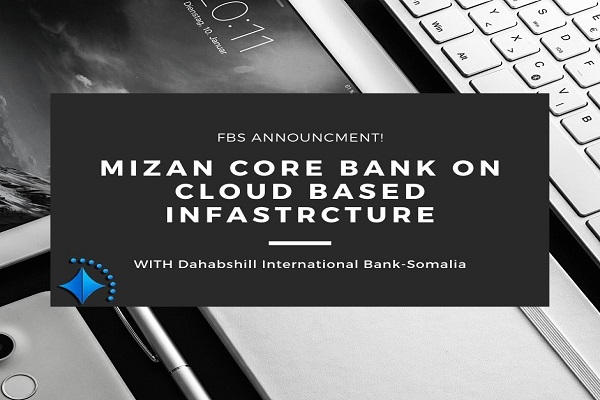 On September 2020, FBS has implement MIZAN V3.0 with Dahabshill International Bank (DBI) a unit affiliated to one of largest banking groups in Somalia operating on Islamic platforms, Dahabshill Group Holding.
New project are deployed on Cloud Infrastructure for achieving high-performance computing power to run the bank's IT workloads while providing real-time elasticity.
New version of MIZAN has add additional value features such as: Web Enabled attribute, support Multi Bank setup that leverage the option for the group to manage their subsidiary banks operates on Somalia and Somaliland on hierarchy layers, Support different accounting methods, rich reporting mechanism and Business Intelligent service that help the bank to get predictive insights for better data-driven decision making.
This new agreement was signed by Dahabshill Holding's CEO Omer Alshikh and FBS Company' GM Tilal Ali on Saturday 23 May 2020. The implementation was preformed 60% remotely from FBS offices on Khartoum – Sudan consequence to Lockdown affected the world by COVID-19 pandemic and delivered the rest of 40% onsite implementation and go- live in cloud servers by FBS team on Hargeisa – Somalia.
Dahabshill group had been preferred technology partner with FBS. This upgrade from Pentabank to MIZAN will help match the bank's business growth in mission to cope up with the fast market internationally and be the leader of financial and banking services on region.
Check our strategic partner information on Dahabshil Bank International here www.dahabshilbank.com